This is Rapid Fire Movie News, where we give small updates on some upcoming movies, plus our reactions.
Today, its all about upcoming films based on true stories. We have new trailers for the following..
Michael Bay's film about a group of heroic men defending an American embassy under attack.
A thriller about reporters exposing the sexual abuse crimes committed by a Catholic Church.
The courageous rescue of 33 miners trapped in the Chilean mine back in 2010.
---
---
13 Hours: The Secret Soldiers of Benghazi
Yes, Michael Bay has a new film coming out next year. No, its not another Transformers or mindless action flick (hopefully). Based on a true story, 13 Hours: The Secret Soldiers of Benghazi tells the story of a security team defending Americans stationed at an embassy under attack. The film stars John Krasinski (The Office), James Badge Dale (Iron Man 3), Max Martini (Pacific Rim), Pablo Schreiber (Orange Is the New Black), and David Denman (The Office).
Bay wanted to step away from Transformers and focus on this project. He's been hit and miss with films based on true stories, but this one looks like a hit. Granted, it could suck badly and make Bay look more like a disappointment. However, this trailer was intense and full of action. The shots looked pretty darn good, despite a product placement another editor pointed out, which made me look for it.
The January 15, 2016 release date suggest that Paramount isn't sure how much of general audiences will give this film a chance when they see who's directing. I certainly will, because I want to see Bay get back to form doing not so over the top action.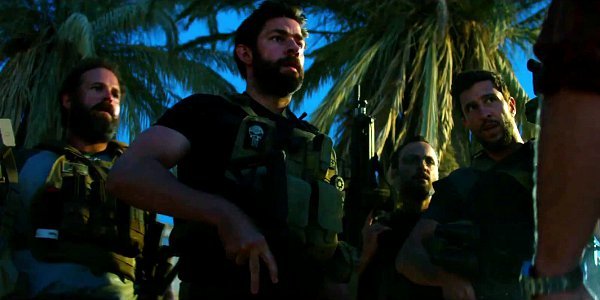 ---
---
---
Spotlight
This film tells the story of a team of reporters at The Boston Globe who investigated and reported a Catholic Church's cover up of sexual abuse crimes. The film is co-written/directed by Tom McCarthy (Win Win) and features an incredible ensemble in Michael Keaton, Mark Ruffalo,Rachel McAdams, John Slattery, Liev Schreiber, Stanley Tucci, Brian d'Arcy James, and Billy Crudup.
Such a sensitive topic surely, but its a story worth telling on film. The studio in charge has so far done an incredible job assembling a strong cast and the trailer looks great. What I hope is the film doesn't hold back in revealing all the details of this troubling discovery.
Spotlight releases in theaters on November 6th, 2015
---
---
---
The 33
Back in 2010, a disaster took place at a 100 year old Chilean mine that resulted in 33 miners trapped for 69 days with limited food and water. The 33 tells the story of a daring rescue and the world coming together in hope and prayer for those men.
I liked this trailer very much, I'm a sucker for real life rescue missions and stories of bravery (i.e Oliver Stone's World Trade Center). Unlike many others, I didn't mind the music playing over it. For me, the music gave the trailer a deep sense of hope and courage. I love Antonio Banderas in this trailer, and I think he'll deliver a heavy and emotional performance.
Patricia Riggen (Girl in Progress) is directing, and also stars Rodrigo Santoro, Juliette Binoche, James Brolin, Lou Diamond Phillips, Bob Gunton, and Gabriel Byrne. The 33 opens in theaters on November 13th.
All of these are worth seeing, but which of these films are you looking forward to the most? Let us know.
Like Movie Talk Express on Facebook
Follow Movie Talk Express on Twitter- @movietalkex
Follow Gio on Twitter- @giorgioramos24